Many years of experience in the mechanisation of wood processing plants have enabled LesInTech to be at the forefront of roundwood sorting equipment production. Own staff of highly qualified specialists in design, manufacturing, installation and commissioning of technological devices, as well as cooperation with other specialised organisations, allow us to implement projects of any scale. However, the exact price of a log sorting line is based on the tasks required and the production volume of the specific plant, factory or workshop.
A log sorting line is not just a sawmill unit. It is an independent system designed for automatic sorting of logs according to geometric parameters and is equipped with the following elements:
Acceptance table for checking and unrolling logs and feeding them to the line.
Step feeder for piece-by-piece log delivery.
Inspection table for timber check up and clearance reduction for further feeding.
Acceptance log conveyor to change the direction of log flow.
Bark removal conveyor to divert waste from other equipment.
Belt conveyor with metal detection for determining metal inclusions in logs.
Measuring unit (2D or 3D scanner) for accurate log measurement.
Sorting conveyor with accumulation chambers for distributing round timber according to characteristics.
For easy operation of the log sorting line, there are service platforms and a two-level operator's workspace with a switchboard on the ground floor and a panoramic glazed room on the first floor. Automation is provided by the switchboards, the control panel and the installed software.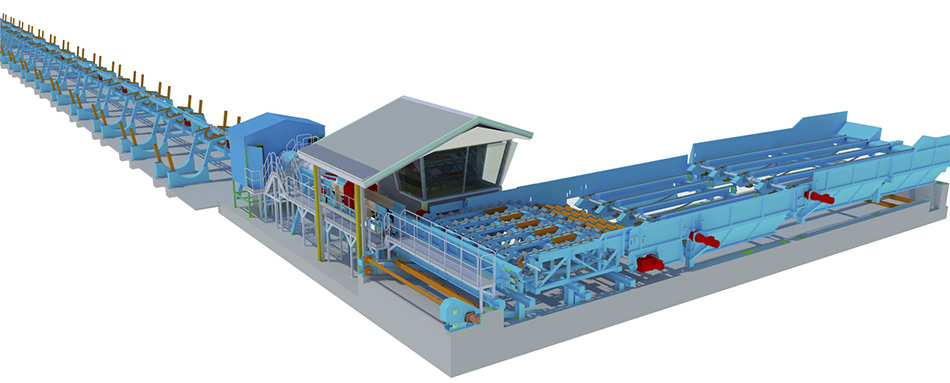 All the sorting equipment shown in the catalogue is manufactured from high-strength structural steel with a long service life. For example, a feeding and sorting line and logs with 23 chambers weighs at least 105 tonnes, not including gear motors, load chains and foundations.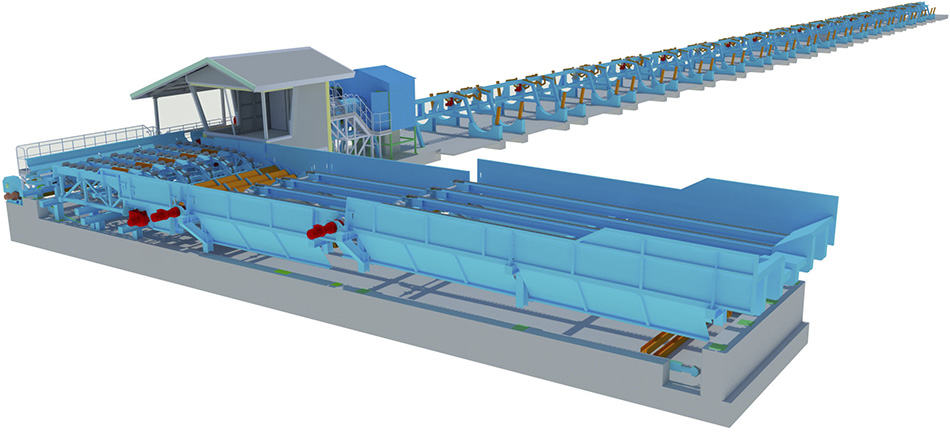 The main advantages of LesInTech log sorting lines are as follows:
The equipment employs only mechanical transmission, which ensures stable operation in various temperature ranges from -40°C to +40°C.
The sorting conveyor is equipped with cross beams with support rollers, which reduces the energy consumption for moving logs on the conveyor.
Electro-mechanical log kicker drive, which does not require hydraulic lines or additional equipment.
The loading table and the disconnectors are equipped with safety boards and guiding boards for bark collection.
The service platforms are equipped with hot-dip galvanised pressed decking.
Buying a log sorting line from LesInTech is a profitable investment for a wood processing company with guaranteed high performance.